Industry
Créat has, for many years, an expertise in various industrial sectors, such as food industry, chemistry, mechanics, drinkable water, … Our team can advise you on adapted seal profile to guarantee the best sealing but also on the compound and certifications according to your market.
In this way, Créat has a large range of elastomers such as EPDM, FKM, FVMQ, HNBR, NBR, … which offer a lot of possibilities in terms of chemical inertia and thermal resistance. Moreover, we produce FFKM seals to withstand chemical products and very high temperatures (up to 300°C).

Our sealing solutions for the industry
According to the profile and application, seals are made by injection or compression, some are dipped.
In this way, we make: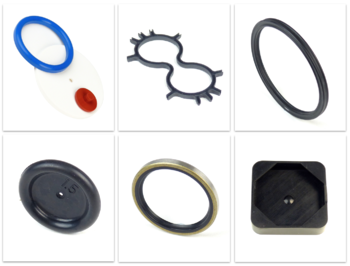 Moulded parts according to drawing
O-rings in all dimensions and hardnesses
Bonded seals
X-rings which are mounted instead of O-rings for specific applications.
Moulded plates in different thicknesses
Metal + elastomer over-moulded parts
Cutting gaskets in different thicknesses for prototypes, small, average and large productions
For each application, we advise you on the sealing profile, the compound, …
In this way, we have developed a lot of seals, among which specific seals for the food industry
Elastomer seals manufacturing for the food industry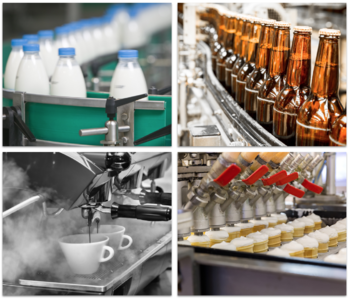 Créat supply, for more than 30 years, sealing solutions for food and beverage applications. Our know-how has been improved over time, technology and industries we work with.
Food industries have to be equipped with reliable machines which respect sanitary and security standards. In this way, Créat offers its services to design specifics elastomer seals, suitable for food industry applications.
We can produce several kind of elastomer seals for the food industry. Especially, we can make silicone seals for example for fluids transfer. All our solutions are in compliance with European regulations. Our experts are available to guide you towards the best sealing solution.
Créat offers to its customers an irreproachable accompanying in order to satisfy all kind of needs in the food industry: elastomer seals, machined seals, certifications (1935/2004, FDA, ACS drinkable water, …).
Our specific compounds to the food industry
Elastomer compounds
Our elastomer seals can be produced in various elastomers, according to conditions of use and specificities required.
You can find bellow, the non-exhaustive list of approved compounds (1935/2004 and FDA):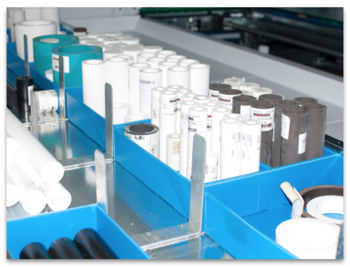 VMQ 40 SHA CE 1935/2004 and FDA
VMQ 60 SHA YELLOW CE1935/2004 and FDA
VMQ 60 SHA RED CE1935/2004 and FDA
VMQ 60 SHA TRANSLUCENT CE1935/2004 and FDA
VMQ 70 SHA TRANSLUCEN CE1935/2004 and FDA
VMQ 70 SHA RED CE1935/2004 and FDA
VMQ 80 SHA WHITE CE1935/2004 and FDA
EPDM 50 SHA BLACK CE1935/2004
FKM 70 SHA BLACK CE1935/2004 and FDA
For all specific compound, please contact our technical department.
Plastics and elastomers compounds machining
We also produce all revolution parts in the range of plastics compounds (PTFE, POM, PEEK, PCTFE, PFA, PVDF, PU, …). In this way, we can make composite bushings or back up rings.
We offer, on demand:
An extended dimensional span
A complete range of profiles.
A production of parts according drawing, out of standards.
An exhaustive choice of compounds, available on stock.
A technical expertise for the choice of the profile, the compound, according to conditions of use.
An optimal dimensional stability through our workshops and air-conditioned stocks
Machined-Compounds-Certifications-Creat.pdf

[.pdf] - 308.29 Ko
Entrust us with your projects
Our technical department is at your disposal throughout your project. In this way, we analyse your needs and your facilities to define the best solution.